We only accept reservations up to 14 days in advance. Reservations with longer time frames will be discarded.
Welcome to Belleville Storage Center located in Belleville IL.
Contact us today to learn more about your storage options!
Our goal is to deliver clean, safe and convenient storage options for our customers. We pride ourselves on being a small company that places its emphasis on a friendly environment and delivering a good value to all of its customers. We are located very close to
Scott Air Force Base
too.
Why Choose The Belleville Storage Center?
Friendly and Helpful Residential Manager
Over 20 different self storage unit sizes available
Entryway Surveillance & Security
City Police Patrolled
Solid Concrete Block Construction
18 Wheeler access (to limited areas)
Lock included with all rentals
Which Type of Storage Do I Need?
Climate Controlled Units
Belleville Storage Center offers climate-controlled storage rooms to provide protection for heat-sensitive goods such as leather & wood furniture, important documents, antiques, linens, and photo albums.
Learn More
About These Units
Non-Climate Controlled Units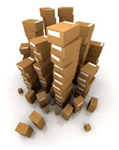 Belleville Storage Center offers non-climate-controlled storage rooms for instances where climate-controlled units are not required. These units are a cost-effective alternative and can save you money.
Learn More About These Units